The Car Wreckers in Australia stand for the used vehicle recycling process. Their primary role in removing unwanted vehicles and dismantle them to recycle for used parts. Wrecking yard is also a collection centre of used auto parts for different makes and models. Similarly, wrecking yard is a place where you can find a way to dismantle your scrap, unwanted, old, rusted, wrecked, junk, accidental, written-off vehicles.
What are the benefits of car wreckers in Brisbane?
Although the car wreckers are helpful for all regions for Australia and top-five direct benefits from local wrecking yards-
1- Remove your scrap cars using the free towing facility.
2- Sell your written-off vehicle within a few hours.
3- Find used engine, tyres, bonnet, bumper, headlight and many more for your second-hand cars.
4- Online help- Use live chat, call, email or enquiry form to contact any time.
5- Environment savvy & prevent you from unwanted penalties.
How it works

1- Selling a Car
The process to deal with your vehicle to auto wreckers Brisbane for instant cash-
1) For quick valuation online, you need to fill all required details in the simple form on our website or call on 07 3082 6497. You can also get immediate help using our chat on our official timings.
2) Call to Qldcashforcars friendly customer support here. Because you need to give us the necessary details of your car. That include makes and models of the vehicle, its age, and mileage if running, and its overall condition. We pay special prices for 4wd cars in Brisbane. Our team offer you quotes within 30 mins.
3) Finally, If you agree- we need sellers address, phone number, email and time to pick up your vehicle.
2- For Used Car Parts in Brisbane
1- We have a simple and easy process to find your used car parts, a simple call us 07 3082 6497 or chat with a live agent.
2- We need your vehicle makes, models, year of purchase and full details of the part that you need, also helpful if you can send us the pictures.
3- We check at our used part inventory and offer you if available. You can visit our wrecking yard to collect your vehicle's part, and we get your invoice and warranty card if possible.
Vehicle types for Auto Wreckers Brisbane QLD
Toyota Wreckers Qld Wide – Camry, Corona, Corolla, Hilux, Litace, Hiace, 4Runner, Echo, Tarago, Estima, Landcruiser, Selica, Starlet
Nissan wreckers Brisbane – Pulsar, Altima, Navara, Maxima, Micra, Skyline, Urvan, Elgrand, Pintara, X-trail, Murrano
Mitsubishi wreckers Brisbane – Magna, Colt, Lancer, Mirage, Verada, Express, Delica, Outlander, Pajero
Mazda wreckers Brisbane – Astina, Bravo, Protégé, 626, E2000, Bt-50, Tribute
Subaru wreckers Qld Wide Brisbane – Impreza, Liberty, Forester, Legacy, WRX, L-series
Holden wreckers Brisbane – commodore, Astra, Barina, Rodeo, Colorado, Captiva, Jackaroo
Suzuki wreckers Brisbane – Swift, Alto, Carry, Ignis, Liana, APV, Vitara
Ford wreckers Brisbane – Laser, Fiest, Falcon, Fairmont, Mondeo, Territory, Ranger, Escape, Courier, Trader
Honda wreckers Qld Wide – Civic, Jazz, Accord, CRV, HRV, Legend, Prelude, Odyssey
BMW wreckers Brisbane – Series 1, 2, 3, 4, 5, 6, 7
Audi wreckers Qld Wide – A series, R series, S series, Q series
Jeep wreckers Qld Wide
Mercedes wreckers South Brisbane
Peugeot wreckers in South Brisbane for all models.
Citroen wreckers Brisbane – All models
Daewoo wreckers Eastern Brisbane- All models
Daihatsu wreckers Brisbane – All models
Saab wreckers Brisbane wide- All models
Renault wreckers Brisbane – All models
Why Auto Dismantling & how it get processed
People always ask the question of what about our vehicles after selling to a car wrecker. However, they know that we're not a reseller or never go for register again for further use of any vehicle- car, bus, truck or van.
When it comes to permanent vehicle removal, the wrecking team inspect the overall condition of useful parts. Furthermore, we dismantle the vehicle and collect parts one by one manually using various tools for prevention of breaking or any loss.
Vehicle Life-Cycle Diagram- New Vehicle, Dismantling & Recycling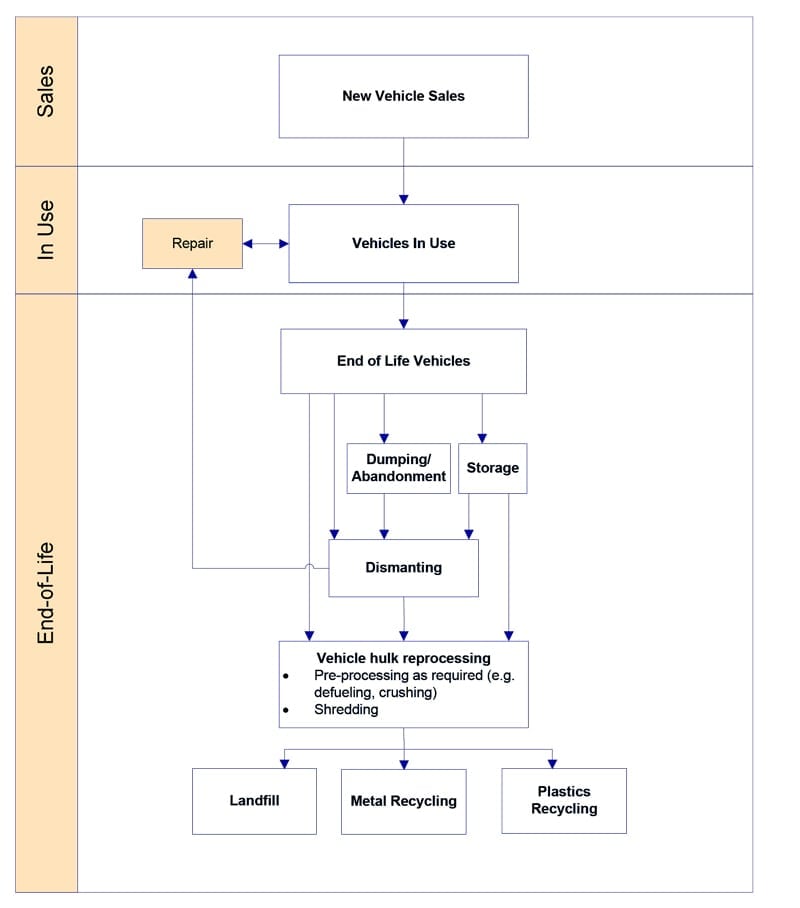 Shredder:
A quick definition where Customers remove the parts themselves and as such, they may remove any parts that of use to them – a switch, a brake disc or whole engine. After a period of time or when all useful parts removed, the remainder of the vehicle will sell to a metal recycler (shredder). However, it is quite different in wreck yards. In terms to deal with the wreckers that work as a shredder as well. If somebody sells their cars to wreckers, they can get ELV certificate, car owners receive the money and then it is up to the wreckers that either they separate parts, oil or send the whole body for recycling.
The conservative dismantling operators generally focus on newer vehicles or the type of vehicles like used or a few years old.
These cars are drained of fluids and saleable parts dismantled, cataloged and stored. Each dismantled part first tested and then permitted to resale in the stores or wreckers yard. Parts may include engines, transmissions, alternators, radiators, body panels or trim parts (Environment Australia, 2002). The range of parts that removed is influenced by the age of vehicle and the demand for parts. Younger vehicles may have panel parts removed but less likely to have mechanical parts removed as these parts generally covered by warranty up to 3-5 years. Panel parts more highly sought after for use for collision repairs or other applications within recent model vehicles.
The demand for parts drives the operations of dismantlers as it is not economically viable to dismantle and store parts that can resell at a profit.
Vehicle recycling
Vehicle recycling is the dismantling of vehicles for spare parts. At the end of their useful life, vehicles have value as a source of spare parts and this has created a vehicle dismantling industry. The industry has various names for its business outlets including wrecking yard, auto dismantling yard, car spare parts supplier, and recently, auto or vehicle recycling. Vehicle recycling has always occurred to some degree but in recent years manufacturers have become involved in the process. Furthermore, A car crusher is often used to reduce the size of the scrapped vehicle for transportation to a steel visit for more info at sustainability.vic.gov.au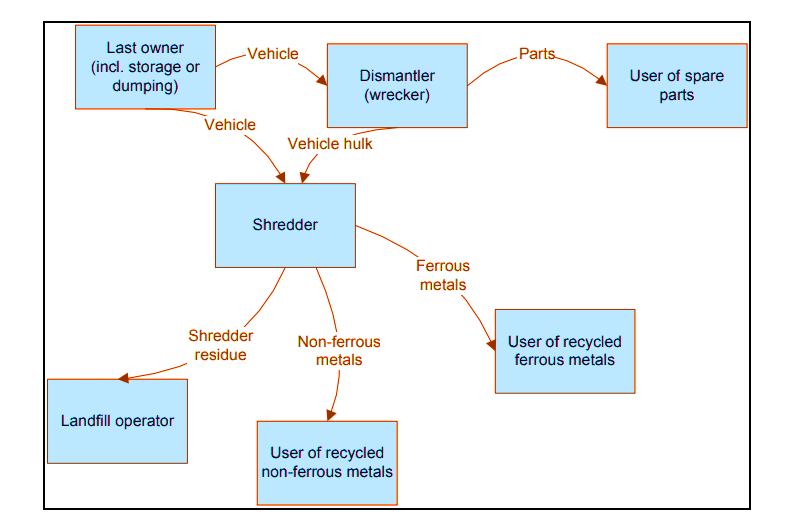 Shredding and recycling or disposal
Wrecking is also helpful for recycling vehicles by collecting unused body parts which is then send to recyclers companies and get a new car body for new vehicles. Here are some facts and the process where we can understand the process and purpose of recycling.The resale of parts through auto recyclers, the vehicle shell then transfer to the metal recycler where it is crush and shred. Ferrous and non-ferrous metals recovered for recycling and the remaining materials sent to landfill as automotive shredder floc.
The composition of floc depends on the composition of the shredder feedstock. but typically made up of plastics, rubber, textile and foam as well as dirt that has picked up during collection of the vehicle hulks. Also, some vehicles directly transferred to shredders at end-of-life without any parts recovery for resale.
These are from the following sources:
1 An end-of-life recovery service where cars collected from the owner and a nominal value paid for the vehicles and more commonly known as the terms cash for scrap cars. it depends on location and vehicle types, this will between $100 – $350 for junk cars. Sell cars for cash to Brisbane wreckers and get an estimated car value by contacting us at 07 3082 6497
Many of these vehicles arrive at the shredder facility without having fluids drain. There no current requirements imposed on suppliers at the weighbridge other than the removal of gas cylinders. Despite this, most sites required to inspect carefully for gas cylinders and even then these sometimes remain undetected and can explode in the Shredder at large cost and damage.
2-Dumped vehicles recovered and delivered often without fluids removed.
3 Vehicles collected by the major shredders from regional areas. These crushed at collection sites (often landfills/transfer stations) and generally, have no residual fluids. They often have other appliances packed within the vehicles to increase tonnage.